Burst pipes and leaking appliances account for the vast majority of  damage in both private homes and commercial businesses. Due to pressure in the pipes or the force of the jets in appliances like dishwashers, water spreads quickly. By the time you notice it, it's probably already seeped into walls, flooring, and other inconvenient nooks. Don't wait to call in the professionals until signs of untreated damage appear. Distinctive Restoration is available twenty-four hours a day, seven days a week, 365 days a year. A pipe can burst at any time, so we're always ready to clean up the mess.
We are a local, family-owned operation. Our business is founded on customer service, an art we've honed over half a century. Any disaster, even if it's just a broken washing machine, can cause serious stress and damage. We take our clients' well-being seriously from the very beginning of our professional relationship, and the benefits of this dedication carry through to the end.
Where Is the Water Coming From?
Burst pipes are extremely difficult to find, especially when they burst in closed areas, like behind walls, in ceilings, or under flooring. You may not see pooling water near the source because water follows gravity. This leads to extensive and complicated cleanup and restoration work, which makes it even more important to call in trained professionals right away.
Water can come from nearly anywhere. Washing machines, dishwashers, and even refrigerators can create a lake in your kitchen or laundry room without notice. When a pipe bursts, you may hear the water, but not see it. You may also find wet spots or pooling water in a different space entirely. A number of special conditions may help you determine the general area of the leak, however.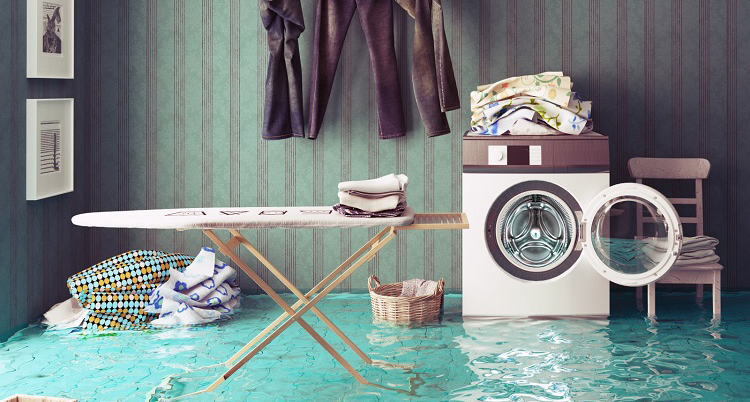 Winter is the worst time for burst pipes. Extended cold periods and cold 'snaps' lead to unpleasant surprises. Pipes within exterior walls orunheated parts of your building are the most susceptible to freezing and bursting. These burst pipes may cause serious structural damage, flood basements, etc. Water often freezes again outside of a burst pipe, and because ice expands, it can ruin the inside of your walls. Naturally, any leak inside a wall leads to significant concerns about the electrical system. The longer you leave these damages, the worse they will become.
Why You Should Never Leave Water Standing
The damage from water doesn't go away on its own. Without proper remediation and restoration work, the damage gets worse. Problems build on each other. A broken appliance or burst pipe may lead to:
Mold, mildew, and bacterial grows
Electrical system problems
Swollen and rotting wood
Support structure degeneration
Bad odors from rotting building materials
Distinctive Restoration Offers:
Attentive service from IICRC certified experts
Rapid response from technicians ready twenty-four hours a day, seven days a week, 365 days a year
Faster results through advanced drying technology, including High Capacity Air Movers and a Low-Grain Refrigerant Dehumidifier
Professionals who are happy to work directly with your insurance company
Thermal imaging to help find evasive leaks and address water damage more thoroughly
Mold remediation
Thoughtful professionals willing to go the extra mile to restore your home and lifestyle as quickly as possible
Customer Care Is Our Top Priority
Customer service isn't just part of our business. It directs everything we do. Our restoration experts understand how customers feel when their property is at risk from a disaster. Even minor disasters, like burst pipes, can have serious consequences. Damage spreads quickly, and not only monetary investments, but memories are at stake. When we come to your home or business, we treat it with the respect and consideration it deserves. Details matter to us as much as they do to you. Your child's certificate of achievement from school is just as valuable in our eyes as an antique oil painting. You can rest assured that we'll take care of your treasured possessions.
Our dedication to customers extends to our billing process. In most scenarios, you'll never see our bill. It goes straight to your insurer. We have everything handled, from collecting evidence to speaking with adjusters. When we begin work, we begin by documenting and photographing the situation so you don't have to. Whatever we can do to get your life back to normal with less stress, we're happy to do. In many cases, this even includes waiving your deductible.