A sewage backup rapidly spreads filth and biohazards throughout your home or business. Cleaning this sewage damage up quickly isn't just a matter of cleanliness. It's also a safety concern. Call Distinctive Restoration immediately if you need sewer backup repair. We're ready to take your call twenty-four hours a day, seven days a week, 365 days a year. Don't give toxic materials the chance to saturate your walls and floor. A quick response is the only way to save your space and prevent serious issues to take root in your home.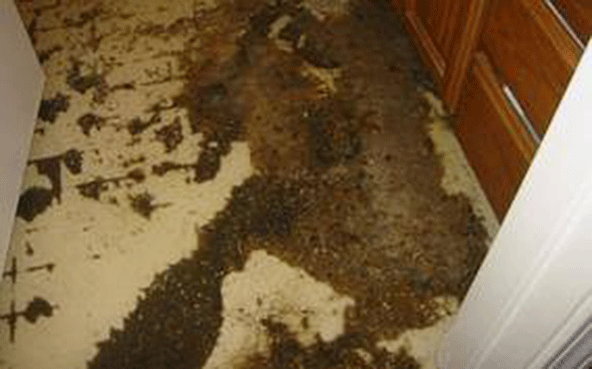 Distinctive Restoration is a family owned and operating company that has been serving the Coachella valley for over half a century. Everything we do revolves around the customer. Your safety and comfort are our first thought, and they're our final consideration before we officially finish a job. This means we care about the details in your home or business that make it unique, and we'll fight to restore them. We go above and beyond standard restoration protocol by billing your insurer directly, collecting and providing necessary documentation and photographs, and more. Our IICRC certified team is ready to take care of your sewage cleanup today. We'll do it right the first time and help you get on with your life faster.

Don't Wait!
Sewage damage is no joke. It smells awful and it causes health problems the minute it hits the human respiratory system. These problems escalate rapidly. The longer you wait, the worse they will get. Sewage is an ideal breeding ground for many bacteria and viruses that could send you or your family to the hospital. Without proper cleaning equipment and sanitation techniques, those pathogens will hide in your space long after the flood is cleared. If you have any sewage damage or flooding, call Distinctive Restoration immediately! We can help with sewage removal, end the immediate threat, and prevent ongoing health risks from growing out of control.
The sooner you call, the sooner Distinctive Restoration can get the detritus, odor, and health threats out of your space. We use some of the most advanced tools available to give our customers the fastest, most thorough sewage backup restoration possible. It doesn't take long for sewage to make its mark on your home or business, but it doesn't take us long to reverse that damage, either.
Distinctive Restoration Offers:
A team of IICRC certified experts
Rapid response twenty-four hours a day, seven days a week, 365 days a year, because we understand that disasters don't take a holiday
Thorough cleaning and sanitation of flooded areas
Mold remediation
Progressive drying technology including High Capacity Air Movers and a Low-Grain Refrigerant Dehumidifier to quickly dry flooded spaces and end ongoing damage
Professional restoration technicians ready and willing to help with your insurance and bill your insurer directly
Caring service ready to go the extra mile to make your life easier and get your space back to normal faster
Thermal imaging to find the source of the problem faster and hunt down all potential damages
Customer Care Is Our Top Priority
Distinctive Restoration isn't like other restoration companies. We understand how scary and frustrating it is when your home or business suffers a disaster, and we know that it takes more than a mop and a fan to bring things back to normal. When we enter your home, apartment complex, or business, we treat it with the care and attention to detail we would use in our own homes. The little things matter, and we'll go the extra mile to restore them. When you hire Distinctive Restoration, you can rest assured that you're not just getting state of the art equipment and highly trained professionals. Distinctive Restoration offers caring experts with the integrity to truly put the customer first.
Our commitment to excellence in customer service extends to billing and financial concerns. A sewage backup is traumatic enough without having to deal with your insurance company. That's why Distinctive Restoration operates with insurers in mind from the first day on the job. We thoroughly document and record every step of the restoration process so we can give your insurer all the details without ever having to add to your workload. When it comes time to present the bill, we communicate directly with the nsurer. In many cases, we can also waive deductible fees. We want our customers to feel like the disaster never happened, and that means taking finances into consideration.