Storm damage is one of the most traumatic disasters that can strike your home or business. A single storm can destroy a building entirely, or you may be fortunate to face just a stripped roof, missing walls, and interior flooding. Even if you are lucky compared to your neighbors, you still need reliable service that's available when you call. Distinctive Restoration is available twenty-four hours a day, seven days a week, 365 days a year to answer any emergency cleaning call. No matter how severe the storm, we'll reverse the damage quickly and respectfully.
Home is where you feel safest, and your hopes and dreams are pinned to the success of your business. Storm damage to either is a serious concern. Broken windows let in rainwater, which leads to flooding and all the problems that come with the damage. Stripped roofs and siding create similar issues. The longer you leave this kind of damage unattended, the more problems it will invite into your space. Storms also bring flooded basements and extensive damage to outdoor features.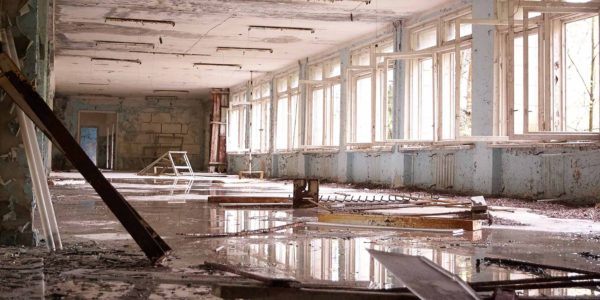 Distinctive Restoration has been servicing the Coachella Valley region for over half a century. We've seen our fair share of storms, and we understand how important it is to fix damage quickly and restore your space. Every technician in our family-owned businesses is IICRC certified. We offer local, customer-oriented service whenever you call.
Don't Let Storm Damage Grow
Many kinds of storm damage create secondary problems. These secondary issues multiply as time passes, which is why it's so important to address these concerns as soon as possible. It's never too late to repair storm damage, but it may be too late to prevent all the problems that come with it. Even minor storm damage can create some serious health and structural risks in your home or business. These include:
Mold, mildew, and bacterial growths
Furniture, wooden fixture, and structural rot
Swelling wood
Odors from decomposing building elements
Stained and/or molded carpets, upholstery, and fabrics
Property devaluation
Additional health and safety risks
Distinctive Restoration's Services
Don't wait to repair storm damage! Distinctive Restoration is ready to answer your call and restore your home or business today.
We offer:
Rapid service from local, IICRC certified technicians who put your needs first
Thermal imaging for faster analysis, rapid repairs, and thorough service
High Capacity Air Movers, a Low-Grain Refrigerant Dehumidifier, and other state of the art technology to stop ongoing water in its tracks
Mold remediation to protect your health
Carpet cleaning to restore your space's beauty and comfort
Reconstruction services for severe damage
Flood damage repairs for everything from the attic to the basement
Professionals ready to handle your insurance claims and bill your insurer directly
Respectful cleaners who understand the value of your space and possessions
True Customer Care
Customer service isn't enough for Distinctive Restoration. We treat customers like family, and we look at an area through their eyes. Not all valuables are electronics and antique furniture. Your kids' trophies, your family photo albums, and the drawing your nephew gave you for your anniversary are all just as important as your costlier possessions. Unlike things bought with money, however, items that carry precious memories cannot be replaced. That's why our cleaning techniques rapidly dry and save more than just empty rooms. We won't let the storm take more from you than you've already lost.
An essential part of our dedication to customers involves billing. From the moment we get to work, our technicians photograph and record the space and their procedures. This makes filing your insurance claim much easier. We'll talk with insurance representatives and adjusters for you, and when it's time to deliver the bill, it goes straight to your insurer. Dealing with insurance is never easy, and we believe our customers shouldn't have to deal with anything else as they restore their home or business. That's why we make it our mission to make the entire process, from your first call to the final bill, as simple and effortless as possible. Storm damage is a strain on any bank account, and in many cases we waive the deductible for our clients. Fixing a wall is one thing. Restoring memories, lives, and ease of mind is something else. Distinctive Restoration won't stand for anything less than the best for our customers.