Tile and grout collect dirt and stains over time, creating an excessively aged, dingy appearance. Mopping cannot remove the deepest marks, and only professional cleaning can restore your floor or walls to their original look. Distinctive Restoration is ready to take your call twenty-four hours a day, seven days a week. Our IICRC certified restoration experts will quickly restore your flooring to its original color and shine.
As a locally owned and operated business with over half a century of experience, Distinctive Restoration offers services on which you can rely.  Our technicians respect your home or business and understand that they are not just cleaning tile. When they work in your space, they are restoring memories and preserving investments.
More than Appearances
Your bathroom, kitchen, and other tiled spaces typically hold more water and humidity than the average area in your home or business. That's why you tiled them in the first place. All that water, however, invites a particular kind of problem. Liquids stain much faster than solids, and in such a nice, humid atmosphere, it's easy for filth and stains to mark your tiles and seep into your grout. Even though tile is designed for easy cleaning, looking clean and being clean are actually two very different things. The more you use and enjoy your space, the more attention your tiled areas need.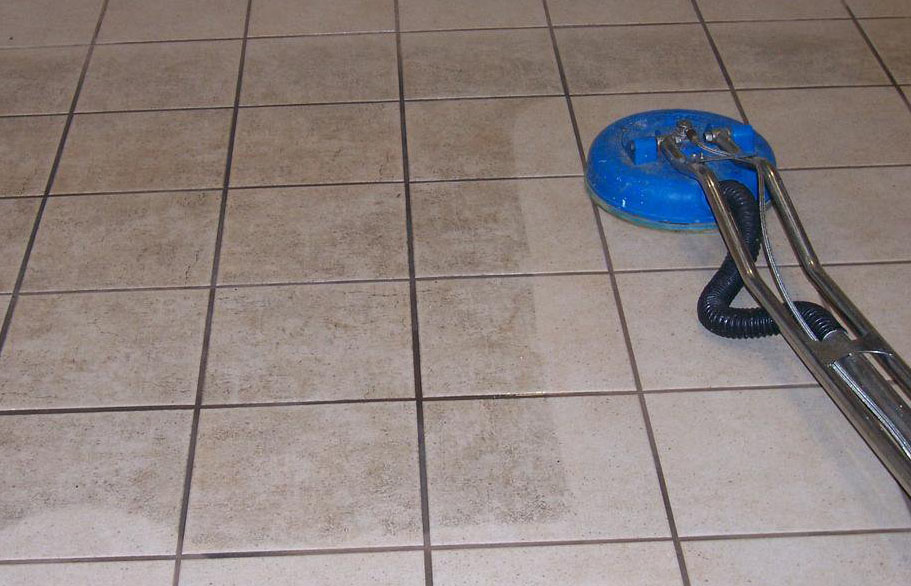 Bacteria and other health risks can hide in grout very easily, even if you use antibacterial cleaning supplies. Professional cleaning isn't just important for looks, but also for your health. Looks, however, are important, as well. Aged surfaces make spaces look older and poorly kept. Even if you clean every day, your tile and grout will stain and grow discolored over time. If you want to sell or rent out a property, tile and grout cleaning is a must.
Distinctive Restoration Offers:
High-pressure steam cleaning to get down to the bottom layers of dirt
Advanced rotary tools to remove waxy build-up
Truck-mounted pressure tools to give your surfaces the best possible clean
Assistance with grout sealant to extend the fresh, clean look of your tiled surfaces
Adding a Sealant
Although tiles get dirty, they're far easier to clean than grout. That's because, unlike tiles, grout is porous. To protect grout, you need a sealant. This protective layer prevents common stains like tomato sauce, coffee, and mud from seeping directly into your freshly cleaned grout. It gives you much more time to clean up the mess before it stains and adds to the longevity of your flooring or walls. Distinctive Restoration offers sealant application services, and our experts are more than happy to discuss which sealant products would best suit your space.
Customer Care
It doesn't matter if you're facing severe storm damage or discolored grout. Distinctive Restoration is ready for the challenge. Our technicians always treat customers' spaces with the utmost respect. We believe that a job is only finished when the customer is satisfied. If your restoration project is covered by your insurance, we'll do everything in our power to jump through the hoops on your behalf. We'll document every step and provide a complete set of photographs for your claim. When agents or adjustors have a question, we're happy to cooperate. We'll even bill your insurance directly, so you never even have to see the bill. Distinctive Restoration will do whatever it takes to restore your space and your peace of mind.